Freeman's Folly Part II
October 5, 2023
I'm amused by the large response to our last post, and the readers who shared Freeman's identity. Thank you, but this isn't the point. Freeman's information has been an open secret among 3D2A developers for at least the last year. And this shouldn't be a surprise given his daily commitment to maintaining a certain kind of profile on social media. Profile work requires producing a constant stream of information about oneself, and advertising this information in public and private spaces.
We should instead consider Freeman's weakness of personality as a notable kind of failure within our community. A failure to engage with what is actually happening.
As I said in the previous post, the cause for the loss of this winnable case was the profile politics of the Gatalog. The only coherent response I've seen from them is: "it's ok we were all immediately doxxed by Odysee, they have to obey subpoenas." Sweethearts, not only is this not true, there was not even a subpoena.

And don't take my word for it. Behold Twitter's third party motions to intervene from November of 2021: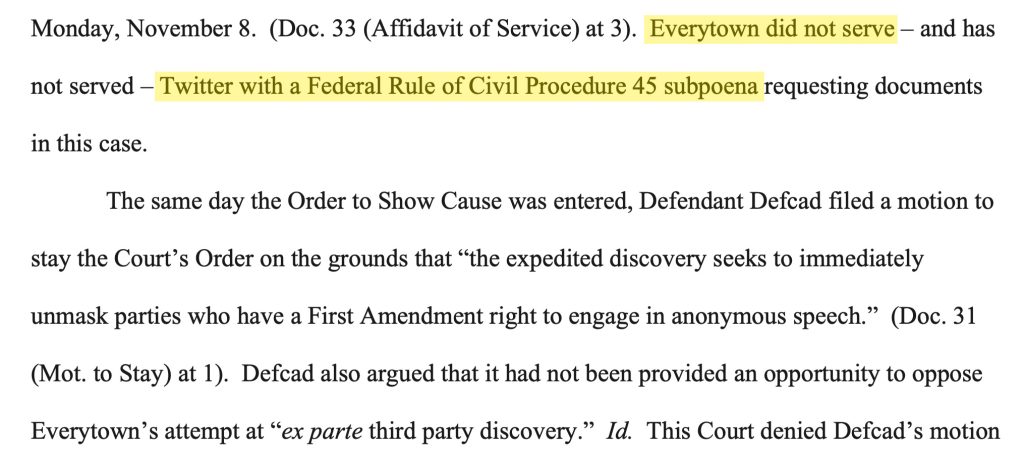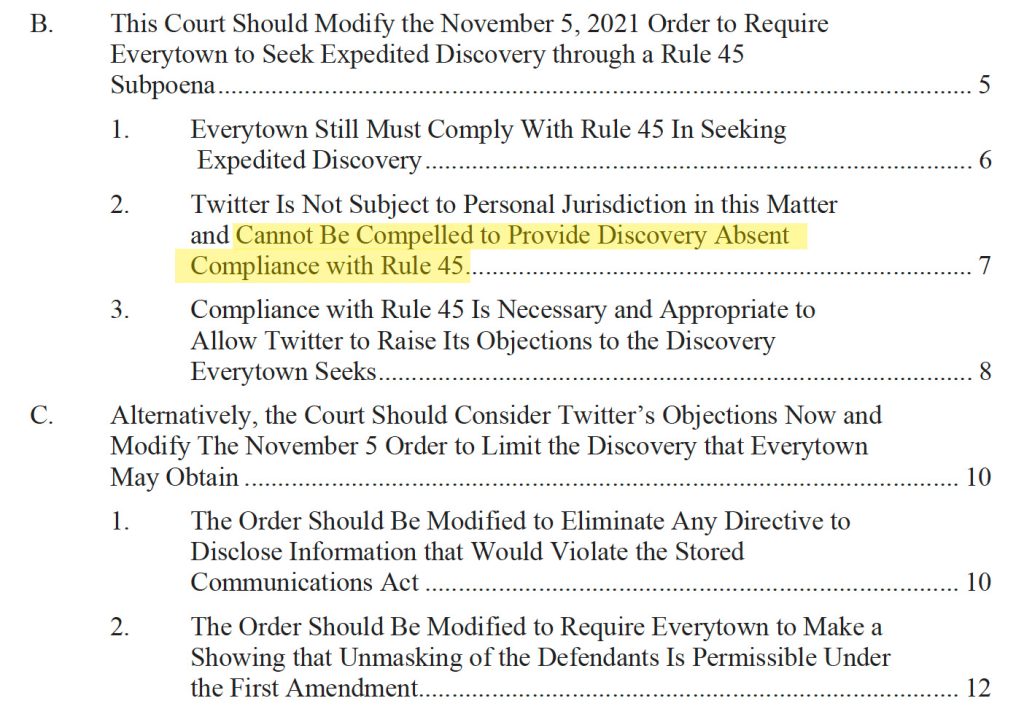 This defense of the rights of 3D gun printers by Twitter was made a year before Elon Musk bought the platform. I am telling you that our avowed enemy, Twitter.com, put in more work to fight this judge's ex parte discovery orders than Odysee, who produced instantly and without any kind of objection.
Defendant "TheGatalog-PrintableMagazines" made a decision not to join this case at all. His big bet was Odysee wouldn't ID him if Odysee wasn't a named party in the lawsuit. He was instead ID'd within ten days. Realizing their entire organizational identity was built on sand, and that any of their devs will be ID'd whenever any authority so much as asks, "The Gatalog" invented and popularized fantasy defenses to their real trauma: "We were the victims of a mean lawyer (one must never confess to being unfortunate)" and "Actually it was DEFCAD (who would take the anonymity fight to the Second Circuit three times) who was doxxing creators."
You cannot make it up. Anyway, I've agreed to share what's left to say about this on Out of Battery Live on Saturday.