DD v. Grewal (3d Cir.) – Appeal Update
November 7, 2019
In Defense Distributed et
al., v. Grewal, No. 19-1729 (3rd Cir.) we've concluded the scheduled briefing on our motion for an injunction pending appeal, as well as for Grewal's motion to summary affirm.
The orders will likely lack opinions but the takeaways are no less striking. In a year of direct litigation against Section 3(l)(2) of New Jersey Senate Bill 2465, Grewal has not once defended the constitutionality of his speech crime. He misses his filing deadlines and fails to follow basic motions practice by phoning in letters over formal appellate briefs. What legal reasoning we encounter in these is by analogy and lacks a basic consonance, or even familiarity, with Third Circuit precedent.
And we are supposed to believe this state wants a direct police power over the entire Internet?
Fighting all these states in court may sound serious to you, but their lawyering is second rate and doesn't compare to federal action involving DOJ. Consider this excerpt from our TRO hearing in Pennsylvania last year:

This one is fun: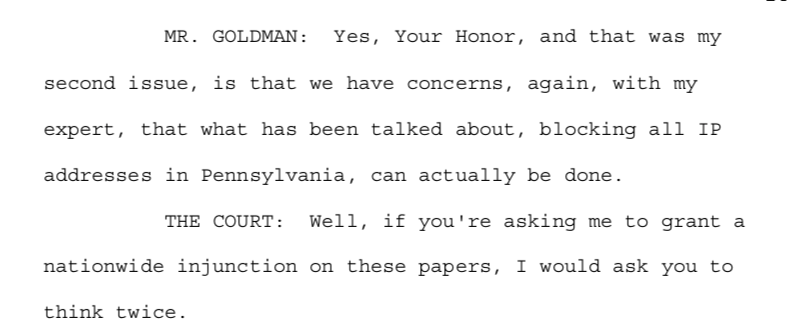 Our battle is difficult because it's expensive and time consuming. But otherwise it's tedium. New Jersey is not sending us their best.
If you'd like to support this litigation, please join DD LEGIO.